On Friday, Feb. 24, people will gather at Langley's Derek Doubleday Arboretum for a 6 p.m. candlelight vigil to mark the one-year-anniversary of the war in Ukraine.
Former Langley City Mayor Val van den Broek, one of the organizers, called it "a chance for people in the community to come together in solidarity."
It is one of several "365 days of resistance" events taking place across Canada that day, including B.C. events in Vancouver, Victoria, Comox, Kelowna, Prince George and Vernon, as well as Calgary, Edmonton, Regina, Winnipeg, Montreal, Ottawa, Toronto and several other Canadian cities.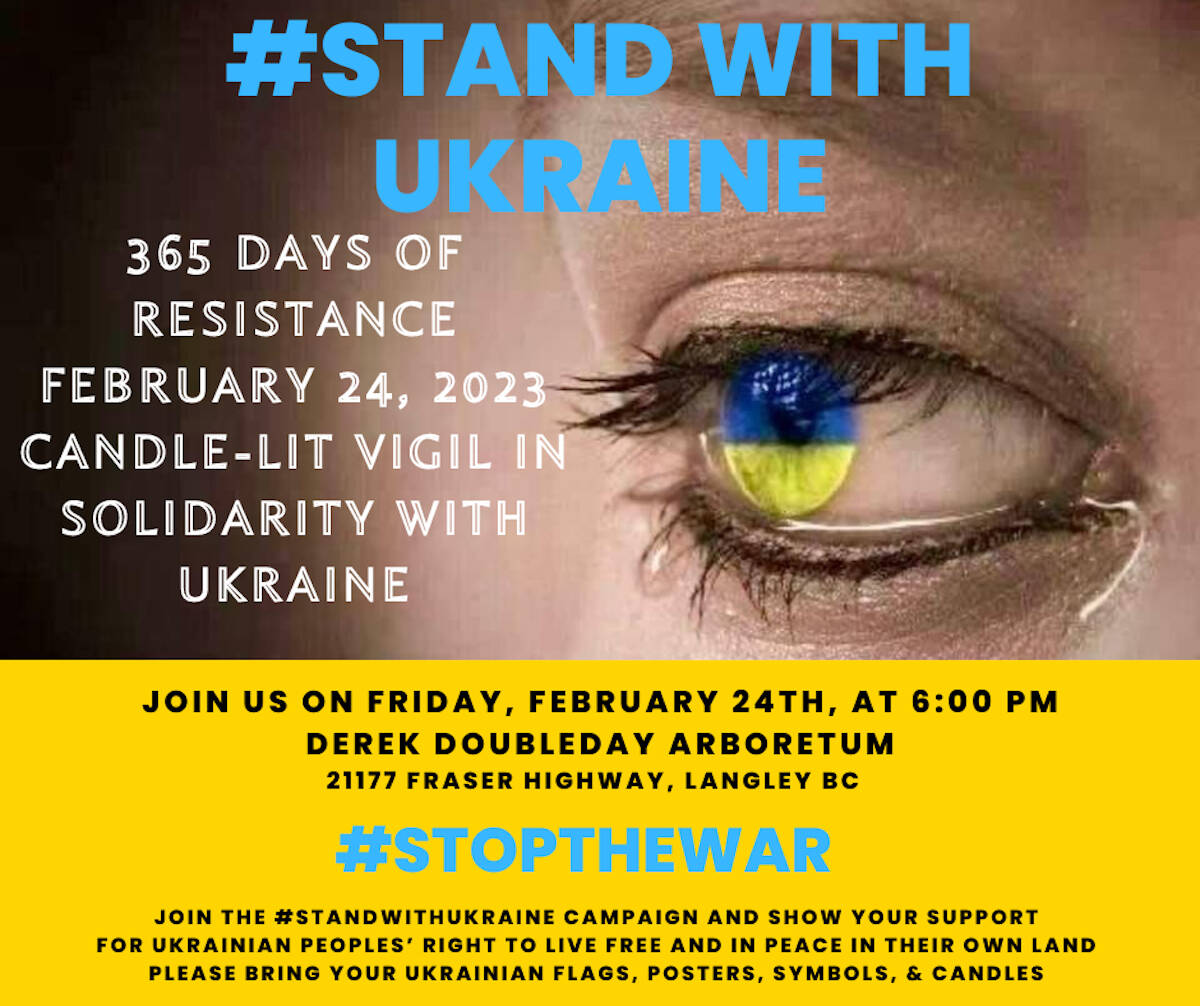 Russian president Vladimir Putin declared war on Ukraine on Feb. 23, 2022.
In announcing the vigils, Alexandra Chyczij, national president of the Ukrainian Canadian Congress (UCC) called the invasion an "unprovoked and ferocious war" and "an evil unseen in Europe" since the Second World War.
"The resources of the free world must be marshalled in the defence of Ukraine's liberty," Chyczij said.
"If Putin succeeds with his assault on Ukraine, the light of freedom in Europe may be extinguished for a generation."
According to the United Nations Office of the High Commissioner, 18,955 civilian casualties were confirmed in Ukraine as of Feb. 13 – 7,199 killed and 11,756 injured. The actual figures are believed to be considerably higher.
Over the last year, Canada has dedicated more than $5 billion to supporting Ukraine, including more than $1.2 billion in military assistance.
READ ALSO: VIDEO: Refugees from Ukraine celebrate a traditional Christmas in Langley City
READ ALSO: VIDEO: Canada plans for justice ahead of grim anniversary of war in Ukraine
- with files from Canadian Press
---
Have a story tip? Email: dan.ferguson@langleyadvancetimes.com
Like us on Facebook and follow us on Twitter.