A piper played 26 teams on to the ice at the Langley Curling Centre for the official start of the 2023 Connect Hearing BC Senior Curling Championships on Wednesday, March 22.
Curlers from across the province were present, from Abbotsford, Castlegar, Chilliwack, Duncan, Kamloops, Kimberley, Kelowna, Langley, Nanaimo, Osoyoos, Vancouver, Vernon, Parksville, Penticton, Quesnel, and Victoria.
Langley's Team Andrews, (Leanne Andrews, Jenn Routliffe, Tracy Strecker and Cathy Chapman) led the procession.
After winning the senior championships women's title for the first time last year in Chilliwack, the foursome is looking for a repeat victory.
So are the men's winners from last year, Team Craig from Nanaimo (Wes Craig, Steve Waatainen, Keith Clarke and Craig Burton), who have a slightly different lineup this year, with Norm Coate replacing Waatainen as third.
Team Craig will be looking for their fourth win. Skip Wes Craig is competing in a record-setting sixth BC Senior Championship.
Players were welcomed by Township Mayor Eric Woodward, who marked the spot for the ceremonial shot taken by Brent Pierce, four-time provincial champion, former national and world champion, with sweeping handled by Austin Arnold from Langley's Team Jones, winners of the Optimist Junior Interclub Curling League event last month at the Langley Curling Centre.
READ ALSO: VIDEO: Langley junior curlers make coach proud
When the decision to hold the event in Langley was announced, Curl B.C. Competitions Manager Will Sutton referred to the Langley club's history of successfully managing major events such as the 2020 New Holland Canadian Junior Curling Championships, "thanks to the tremendous volunteers, staff and community partners that the club has developed at a strategic level."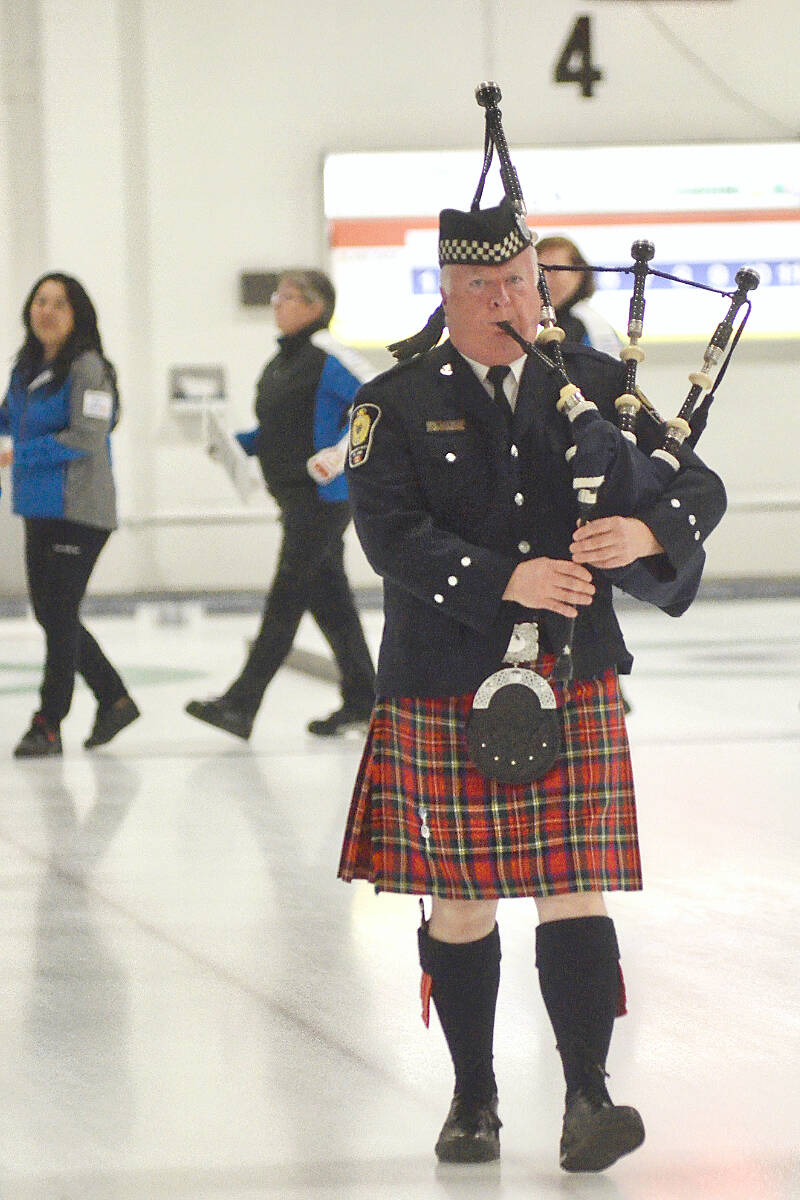 Organized by a host committee headed up by Nick Douce and Wayne Moore, club manager Robyn Parkes, head icemaker Nick Meister and his team, head umpire Troy Matsumiya, and an army of timers, umpires, score updaters, live-streaming assistants and other volunteers, the event is seen as another coup for the club.
Douce, an Aldergrove resident, calculated the Langley curling club has hosted "about four significant" and "very prestigious" curling events over the last 10 years, like the senior championships.
READ ALSO: VIDEO: Good ice and new rocks: why B.C. champions practiced at Langley Curling Centre
One reason has been the high quality of the Langley playing surfaces, he said.
"I think Langley probably has the best ice in the province," Douce told the Langley Advance Times.
'We've got very good ice technicians and always had very good ice quality. [We're ] very proud of that."
Competition will take place over 18 draws, with the final gold medal games taking place Sunday, March 26th at 2 p.m.
Winners of the Langley championships will represent B.C. at the Everest Canadian Senior Curling Championships.
---
Have a story tip? Email: dan.ferguson@langleyadvancetimes.com
Like us on Facebook and follow us on Twitter.